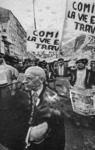 Album title;
Un Nuit Dystopia/Hommage Michel Foucault
(VA)Artist---song list:
1.Makryham--Raymond Roussel:Dysphoria
2.Bunk Data--From Foucault's pleasure
3.Kol sonzlgn--Neue Panopticon
4.sara ayers-La Tache politique actuelle
5.Ergo phizmiz-Mystery of Hadness
6.Henry Gwiazda-TheOtherwilderness
7.Ryuta.k-Truth got broken since May 68
(Toward pan-tonal world music)
1to7 ;48.8 minutes
info;
1.Makryham
Makryham is experimental artist
who is inspired by Herbert Marshall McLuhan
site;
http://makryham.blog.shinobi.jp/
2.Bunk Data
Duluth-Minnesota native Nathan Larson has been creating
various forms of electronic and experimental music for over
12 years under the names Samsa, Bunk Data, and Royal Obtuse.
Nathan was one of the co-founders of the Green House Music label
that released a wide variety of atmospheric and ambient music on
CD from 1999-2002. In late 2002 Nathan created the Dark Winter
net.label with a focus on dark ambient music. Besides his work
with Dark Winter, Nathan is co-curating the Wandering Ear
net.label with Mike Hallenbeck abd the Rotten Crab net.label .
site;
http://www.bunkdata.com/
3.Kol sonzlgn
Dark experimental schizo
usyukuro marxist band "Kol sonzlgn"
Their moto;
No music our life.
not cummunist but marxists.
we want only reach Kol sonzlgn
(Body without organic)
But it means Death.
But All schizod will happen.
site;
http://jp.myspace.com/kolsonzlgn
4.sara ayers
Sara Ayers is an ambient music artist who uses
her voice as a sound source. The Chemical Brothers used
samples of Ayers' "Everyday We Die a Little" on their song
"Come Inside" from their album Push the Button. VH1 used samples
of "Angel #3" for the soundtrack of Behind the Music: Britney Spears.
And the Russian electronic trio Figura constructed an entire album,
The Sara Ayers Remixes, around her vocals.
site;
http://en.wikipedia.org/wiki/Sara_Ayers
5.Ergo phizmiz
Ergo Phizmiz is a diverse and multifaceted artist,
working across eccentric pop music, collage, radio-art,
installations, and performance. His work is disseminated
and presented globally on a regular basis across platforms
and media, and his reputation as a typesetter and creative explorer
is constantly growing.
site;
http://www.ergophizmiz.com/
6.Henry Gwiazda
Henry Gwiazda (b. 1952, silent i) is a composer who
specializes in virtual audio, the simulation of a three
dimensional sound space in either headphones or precisely
positioned speakers. He composes what may be called musique concrète,
using samples usually without "tinker[ing]" with them.
His most easily available music is on the CD noTnoTesnoTrhyThms,
site;
http://en.wikipedia.org/wiki/Henry_Gwiazda
7.Ryuta.k
tokyo-chiba based experimental musician ryuta.k(aka RYU)
releases mostly freeform ambient and experimental muziq 
since 97 with powerbookG4 ,max/msp,etc.
Also he has learning post modern Structuralism or Philosophy
or modern art(art&Technology),modernscience .
He calls The genre of fishy music he made
Post sampling kinetic nonhierarchical nonlinear nonequilibrium forth world muziq !
site;
http://usyugana.hp.infoseek.co.jp/